The South China Morning Post is the founding newspaper of the SCMP Group. Bringing together our oldest and newest titles, in print and online, in Hong Kong and Mainland China, the division symbolizes both the wisdom of history and the spirit of innovation that fuels our development and lays the foundation for continued success.
At the heart of our news division is a philosophy based on the pursuit of excellence. For over 100 years, the South China Morning Post has built up the trust of its readers in Hong Kong. With the development of digital channels, it appeals today to a broader China audience, and a global audience of China watchers, hungry for editorial reporting they can depend on, and for insights into one of the most exciting corners of the world.
THE SOUTH CHINA MORNING POST AND SUNDAY MORNING POST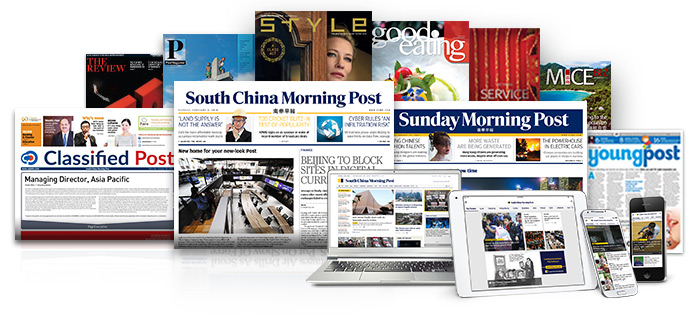 ---
The South China Morning Post and Sunday Morning Post are Hong Kong's premier English language newspapers and the group's flagship publications.
First published in 1903, the South China Morning Post has built an enviable reputation for authoritative, influential and independent reporting on Hong Kong, China and the rest of Asia. Today, we strive to maintain the highest standards and are proud to rank among the world's best-known quality newspapers, achieving global recognition for our breaking news coverage and in-depth reporting.
The Sunday Morning Post is Hong Kong's English-language Sunday newspaper. It has been with the company since the mid-1940s, but only became the Sunday Morning Post in 2000. The Sunday Morning Post is a Hong Kong Sunday tradition, featuring rich lean-back content, including the highly praised Post Magazine with its award-winning features and exposés, the city's best arts and culture coverage, the popular Sunday Young Post and much more.
The South China Morning Post is Hong Kong's premier English language newspaper, providing news 24/7, in-depth and quick scan reads, informative infographics, critical analysis, community discussions plus access to the most comprehensive news archive in Hong Kong. We also offer our readers and subscribers a wide range of glossy magazines, from weekend and style guides to special interest publications on wining and dining, investing, properties and more. Our youth titles, Young Post and Posties, are two of Hong Kong's top educational newspapers, introducing quality journalism and informative curriculum assistance to children from 7 to 17 years old.
Editorial Excellence
Our team of seasoned journalists, based throughout the Greater China region, provides an unmatched resource of local knowledge and experience. Organized to deliver news accountability, knowledge, understanding and professionalism, our editors are committed to setting new standards of excellence in Hong Kong and China coverage. Time and again, the SCMP is first with breaking news, and our in-depth expertise means we can provide penetrating analysis of the issues that matter behind the headlines. SCMP award wins
SCMP Digital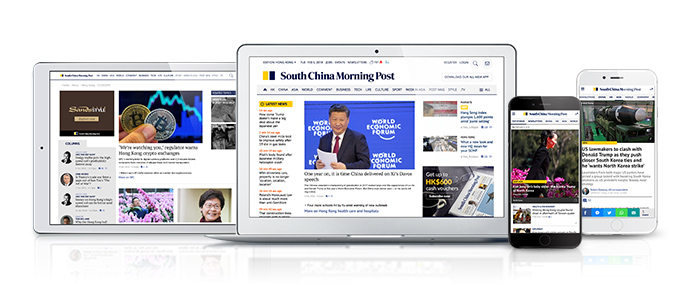 Hong Kong's premier English language newspaper, the South China Morning Post, is available anytime, anywhere through our website at www.scmp.com, the mobile optimised version at m.scmp.com, our smartphone app SCMP Mobile Edition and the SCMP Tablet Edition.
Our portfolio of digital platforms gives readers free access to extensive news on Hong Kong, China, Asia and the world. scmp.com, our flagship online product offers many unique and intuitive features that cement the SCMP's expertise in news for our region. Optimised for mobile at m.scmp.com, readers can enjoy our daily news content, enabling them to share and search our news content. The SCMP Mobile Edition and Tablet Edition go one step further allowing readers a fully interactive, personalisable experience that makes the most of the medium.
With easy to navigate sections, readers can find rich content that goes beyond the day's news, as well as social interactions and a wide variety of participating bloggers on our digital platforms. scmp.com, in particular, features a photo gallery, provides themed photojournalistic essays and real-time news updates. Our award-winning infographics are given a satisfying interactivity that enables readers and researchers to select alternative perspectives on the news. Instant access to 20 years' worth of content demonstrates that there's no better archive for our region's news history.
The most trustworthy and insightful source of information in Hong Kong and China is now globally more accessible with the South China Morning Post. Our digital products give readers the news and information they want, and allows them to search and share, anytime, anywhere.
Young Post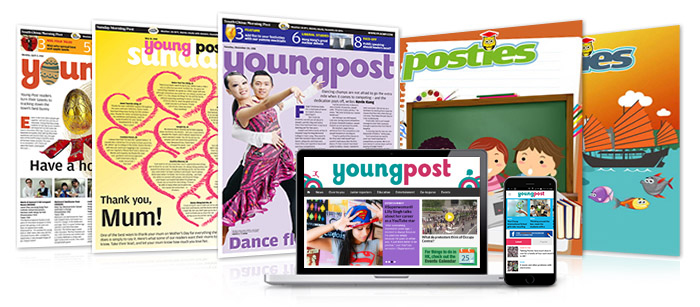 First established in 1985, Young Post has been Hong Kong's most beloved youth newspaper for generations. This specialised edu-tainment newspaper caters primarily to secondary school age group in Hong Kong and nurtures the growing appetite for news and critical thinking among tomorrow's generation of leaders. Young Post is distributed Monday to Friday through local schools, and covers significant portions of the local school curriculum. Through current affairs and liberal studies editorial, debates, fun activities and updates, vivid graphics and engaging real life examples, students learn through a newspaper that talks in their language and makes sense of their world.
In 2012 we launched Posties to the younger 7-11 year old audience. Activities and information are combined in an easy to digest newspaper that nurtures a love of learning among primary age students.
---
Our Advertisers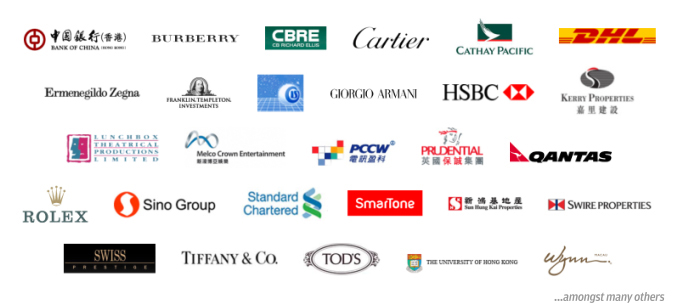 From luxury watchmakers to tailors, from global banks to local restaurants, and from private enterprises to public listings, our advertisers comprise a wide range of sectors with a unified goal: to target Hong Kong's most affluent and discerning consumer.
The South China Morning Post continues to be the newspaper of choice in Hong Kong for premium advertising. With the city's number one reach of the business elite (BE:Asia 2010-2014), we capture the lion's share of Hong Kong's highest disposable income consumers and its most powerful business decision makers.
Our core readership in Hong Kong is strong, supporting our premium rates. The South China Morning Post is the clear leader in many categories important to advertisers.
No surprise then that whatever the economic climate, our print and digital editions play a pivotal role in advertising plans across many key sectors from luxury goods to financial investments. As we increase our special reports and features, and expand online, more revenue streams for display advertising continue to be created.
---
Advertising and Marketing Solutions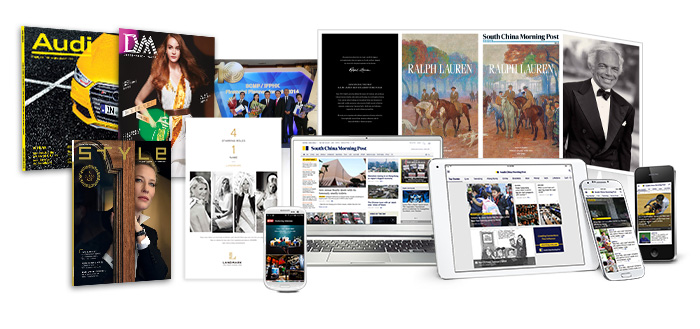 SCMP Advertising and Marketing Solutions' principal focus is to sell advertising space across the South China Morning Post print and digital product portfolio. Leveraging our strong relationships with advertiser clients and the ability to connect strong editorial content with prestigious brands, additional dedicated specialist teams offer a wide range of premium marketing solutions, including consumer and business events, custom publishing, marketing strategy, multi-media creative development and promotions.
Advertising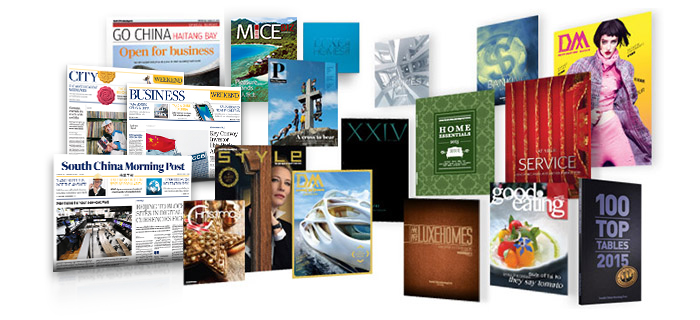 The South China Morning Post offers our forward-thinking readership a comprehensive portfolio of products from newspapers to magazines, special reports and supplements, glossy publications of vertical interests, directory and guidebooks. This all adds up to exciting new options to our advertisers to meet their different needs.
With our extensive portfolio, our advertisers comprise a wide range of sectors from luxury watchmakers to tailors, from global banks to local restaurants, and from private enterprises to public listings, all aiming to target Hong Kong's most affluent and discerning consumers.
The South China Morning Post continues its dominant ranking among Hong Kong's business elite, among all local and regional newspapers and magazines. For targeting business leaders in Hong Kong, we're simply the no.1 choice.
Digital Solutions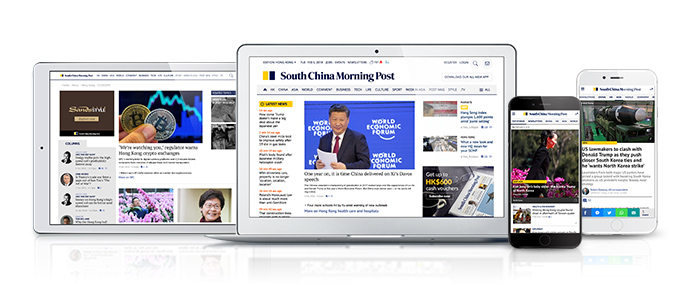 The South China Morning Post is a pioneer in adopting the latest technologies to offer a full range of digital platforms for our readers and advertisers. Our flagship product, SCMP.com, attracts millions of international eyeballs and generates tens of millions of page views per month, providing a perfect channel for our advertisers to reach a worldwide audience. With the implementation of numerous digital ad options, advertisers can choose from traditional banner ads to the most advanced engaging ad formats that bring an impressive conversion rate to their products.
Mobile and tablet are the latest addition to the full spectrum of SCMP digital products. With a strong growth in the usage of mobile and tablet by affluent readers, SCMP Mobile and Tablet products offer the perfect channels for advertisers to run rich-media ads, driving strong marketing results. SCMP digital products are all readily customised to accommodate native advertising, which has become an extremely popular and powerful advertising format for sophisticated advertisers.
Marketing Solutions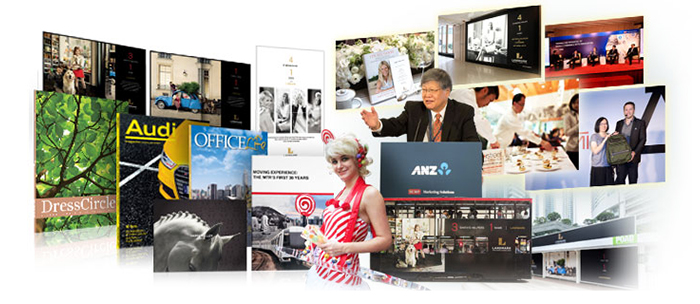 SCMP Marketing Solutions is an independent team which operates synergistically within the company, with a focus on building integrated marketing solutions for advertisers. An integrated team of talents work seamlessly with SCMP's Advertising team to offer a wide range of services including:
Strategic planning and market analysis
360 degree creative development including ATL, BTL, digital and outdoor
Credible editorial expertise delivers customised publications
Innovative event solutions that bring the brand message to life
It is different from typical advertising agencies or creative boutiques, because SCMP Marketing Solutions offer authoritative marketing solutions with a key differentiation – our duo's strength. Together with our media products and channels, we continue to help our advertisers and clients turning noise into voice and providing premium brands with a powerful and effective marketing solution. The client base largely consists of advertisers that have placed bookings in the newspaper, but the team is rapidly building an independent source of revenue.
From designing bespoke brand books to delivering full marketing campaigns, and from developing corporate brochures and videos to masterminding events that attract visitors in their thousands, SCMP Marketing Solutions goes from strength to strength. It is the only media group based agency in Hong Kong to provide a full suite of integrated marketing solutions for advertiser clients.
---
Events and Conferences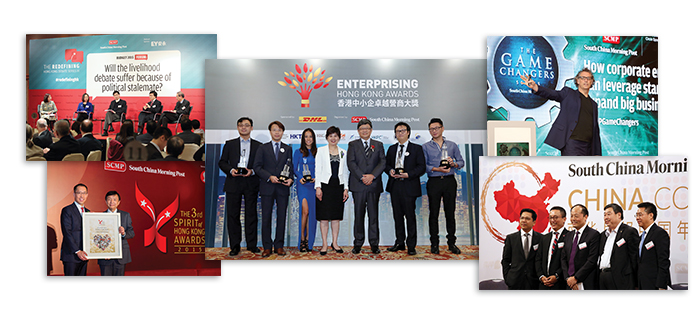 The South China Morning Post prides itself on setting the news agenda, reflecting upon the current zeitgeist and presenting lifestyle coverage that delivers insights and information on matters of personal interest.
Through our events, we aim to bring that content to life by engaging and interacting with our reader community. Our key events include:
Redefining Hong Kong Debate Series, a series of panel discussions held to shed light on some of the topical issues regarding Hong Kong's present and future competitive viability.
The Game Changers Series, innovation-themed forums that bring together those that have fundamentally changed the rules of business as we know it, either through their indomitable entrepreneurial spirit or their innovative brilliance.
China Conference, which brings top business leaders, policymakers, advisors and investors together to share latest insights on unlocking investment opportunities, forging strategic partnerships and reshaping business strategies to build a sustainable business with China, the world's second largest economy, as the centerpiece.
We also present events that support education and, together with the Hong Kong Jockey Club, reintroduced the Student of the Year Awards last year.