The South China Morning Post is the founding newspaper of the SCMP Group. Bringing together our oldest and newest titles, in print and online, in Hong Kong and Mainland China, the division symbolizes both the wisdom of history and the spirit of innovation that fuel our development and lay the foundation for continued success.
At the heart of our news division is a philosophy based on the pursuit of excellence. For over 100 years, the South China Morning Post has built up the trust of its readers in Hong Kong. With the development of digital channels, it appeals today to a broader China audience, and a global audience of China watchers, hungry for editorial reporting they can depend on, and for insights into one of the most exciting corners of the world.
---
The South China Morning Post and Sunday Morning Post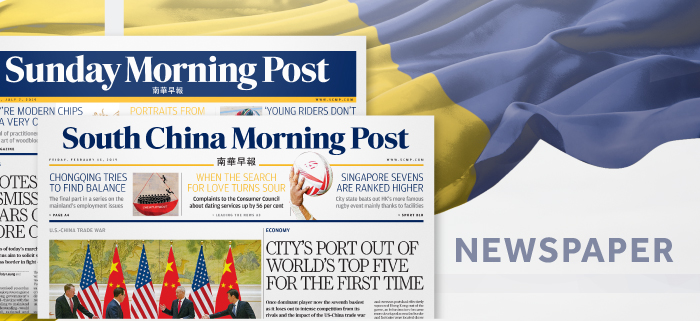 The South China Morning Post and Sunday Morning Post are Hong Kong's premier English language newspapers and the group's flagship publications.
First published in 1903, the South China Morning Post has built an enviable reputation for authoritative, influential and independent reporting on Hong Kong, China and the rest of Asia. Today, we strive to maintain the highest standards and are proud to rank among the world's best-known quality newspapers, achieving global recognition for our breaking news coverage and in-depth reporting.
The Sunday Morning Post is Hong Kong's English-language Sunday newspaper. It has been with the company since the mid-1940s, but only became the Sunday Morning Post in 2000. The Sunday Morning Post is a Hong Kong Sunday tradition, featuring rich lean-back content, including the highly praised Post Magazine with its award-winning features and exposés, the city's best arts and culture coverage, the popular Sunday Young Post and much more.
The South China Morning Post is Hong Kong's premier English language newspaper, providing news 24/7, in-depth and quick scan reads, informative infographics, critical analysis, community discussions plus access to the most comprehensive news archive in Hong Kong. We also offer our readers and subscribers a wide range of glossy magazines, from weekend and style guides to special interest publications on wining and dining, investing, properties and more. Our youth titles, Young Post and Posties, are two of Hong Kong's top educational newspapers, introducing quality journalism and informative curriculum assistance to children from 7 to 17 years old.
Editorial Excellence
Our team of seasoned journalists, based throughout the Greater China region, provides an unmatched resource of local knowledge and experience. Organized to deliver news accountability, knowledge, understanding and professionalism, our editors are committed to setting new standards of excellence in Hong Kong and China coverage. Time and again, the SCMP is first with breaking news, and our in-depth expertise means we can provide penetrating analysis of the issues that matter behind the headlines. SCMP award wins
In 2020, the South China Morning Post became the first news organisation in Asia to join the Trust Project, a consortium of the world's top media companies committed to the highest standards of journalistic quality, transparency and credibility, its participation with the Trust Project underlines SCMP's dedication to press freedom and quality journalism.
SCMP Digital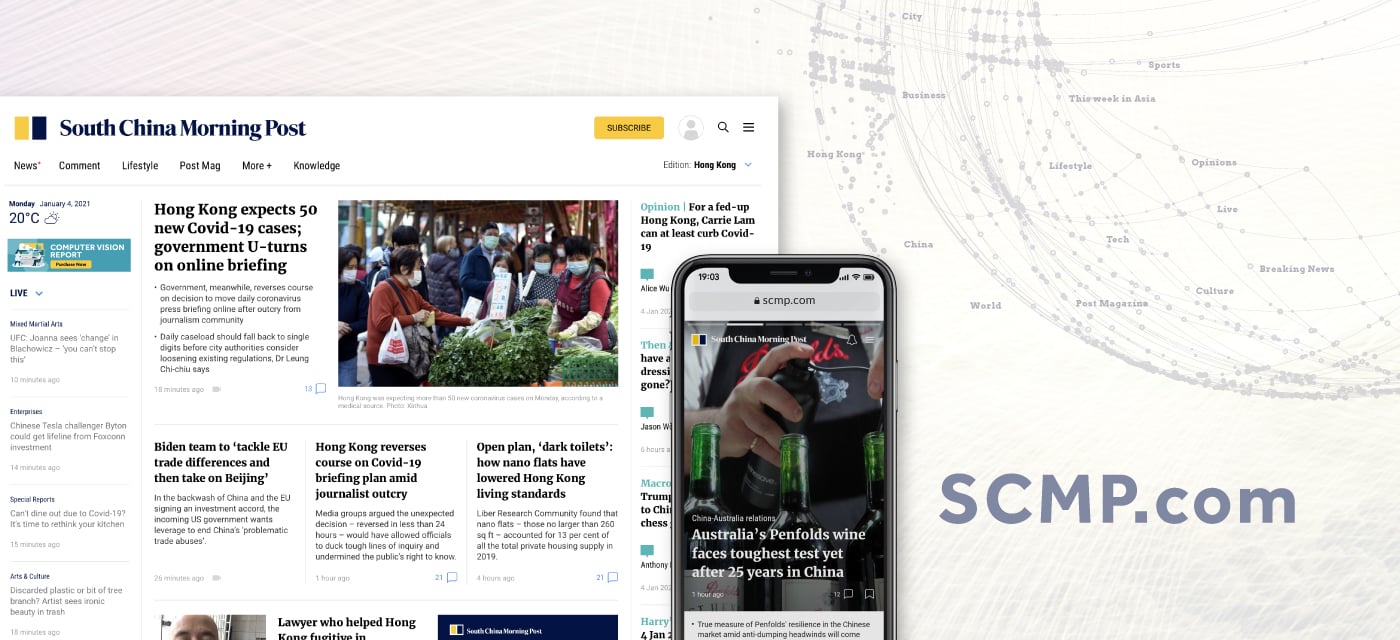 Hong Kong's premier English language newspaper, the South China Morning Post, is available anytime, anywhere through our website at www.scmp.com, the mobile optimised version at m.scmp.com, our smartphone app SCMP Mobile Edition and the SCMP Tablet Edition.
Our portfolio of digital platforms gives readers free access to extensive news on Hong Kong, China, Asia and the world. scmp.com, our flagship online product offers many unique and intuitive features that cement the SCMP's expertise in news for our region. Optimised for mobile at m.scmp.com, readers are enabled to share and search while enjoying our daily news content. The SCMP Mobile Edition and Tablet Edition go one step further to allow readers a fully interactive, personalisable experience that makes the most of the medium.
With easy to navigate sections, readers can find rich content that goes beyond the day's news, as well as social interactions and a wide variety of participating bloggers on our digital platforms. scmp.com, in particular, features a photo gallery and provides themed photojournalistic essays and real-time news updates. Our award-winning infographics are given a satisfying interactivity that enables readers and researchers to select alternative perspectives on the news. Instant access to 20 years' worth of content demonstrates that there's no better archive for our region's news history.
The most trustworthy and insightful source of information in Hong Kong and China is now globally more accessible with the South China Morning Post. Our digital products give readers the news and information they want, and allows them to search and share, anytime, anywhere.
Young Post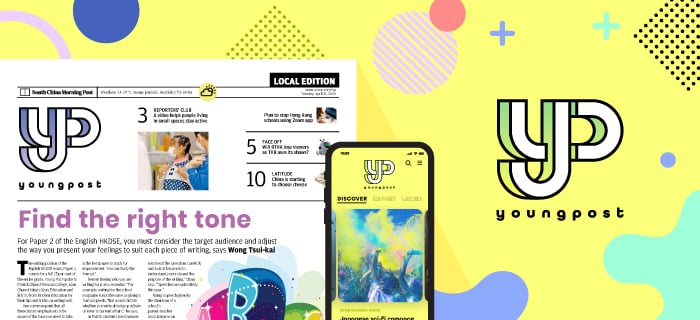 First established in 1985, Young Post has been Hong Kong's most beloved youth newspaper for generations. This specialised edu-tainment newspaper caters primarily to secondary school age group in Hong Kong and nurtures the growing appetite for news and critical thinking among tomorrow's generation of leaders. Young Post is distributed Monday to Friday through local schools, and covers significant portions of the local school curriculum. Through current affairs and liberal studies editorial, debates, fun activities and updates, vivid graphics and engaging real life examples, students learn through a newspaper that talks in their language and makes sense of their world.
In 2012 we launched Posties to the younger 7-11 year old audience. Activities and information are combined in an easy to digest newspaper that nurtures a love of learning among primary age students.
Learn more about Young Post at: https://www.scmp.com/yp
---
Advertising and Marketing Solutions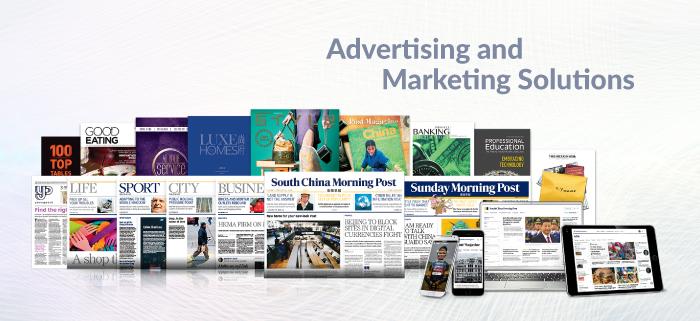 SCMP Advertising and Marketing Solutions' principal focus is to sell advertising space across the South China Morning Post's print and digital product portfolio. We also offer a wide range of premium marketing solutions and branded content services to help our clients engage with SCMP readers.
Print Products
SCMP supports different ad options across our print products. As Hong Kong's number one media outlet in print readership reach among the business influencers (GMI 2019 Hong Kong), we capture the lion's share of Hong Kong's highest disposable income consumers and its most powerful business decision makers via our flagship products, South China Morning Post, Sunday Morning Post and special publications that covers captivating stories and insights which engage readers across a variety of interests, including lifestyle, property, education and business.
Digital Products
With the implementation of numerous digital ad options at SCMP's flagship product, SCMP.com, advertisers can choose from traditional banner ads to the most advanced and engaging ad formats, which bring an impressive conversion rate to their products. SCMP's digital products and tools allow advertisers to run rich media ads including video, audio and more to create effective advertising and marketing campaigns to connect with its worldwide audience, whether online or through mobile devices.
SCMP's premium inventory and audience are also available to advertisers, either through direct orders or programmatically – whichever system best suits your needs. Through PMP, Programmatic Guaranteed and SCMP Signal, an in-house proprietary brand suitability tool, we work with brands to meet campaign goals while enhancing brand safety for marketers by using customisable contextual, keyword & sentiment targeting options, driving impressive marketing results for clients.
With the recent launch of SCMP Lighthouse – Asia's first proprietary first-party data insight and activation platform built by a news publisher – SCMP offers our advertisers with more precise audience targeting and unparalleled consumer insights to boost efficiencies and improve their campaign's return on investment.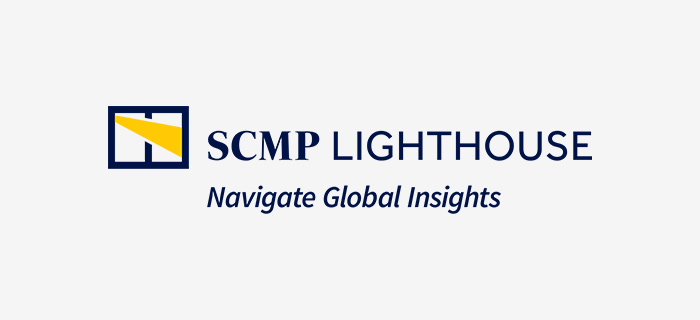 Morning Studio
Morning Studio is the branded content team of the SCMP. As part of a media company that has been the region's main source of Asian and international news since 1903, we understand the importance of communication – and know what makes a good story.
Morning Studio aims to engage SCMP readers through storytelling while enabling the brand behind the content to achieve its marketing objectives. Our branded content uses multimedia resources, including eye-catching video, infographics and animation, and is search-engine optimised (SEO). The content is crafted to SCMP's high editorial standards and with the unique voice of the particular SCMP platform on which it is featured.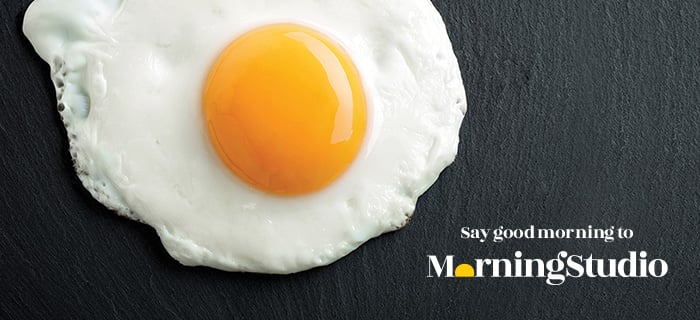 SCMP advertisers range from luxury watchmakers to tailors, from global banks to local restaurants, and from private enterprises to public listings, our advertisers comprise a wide range of sectors with a unified goal: to connect with news consumers around the world.
Learn more about SCMP Advertising & Marketing Solutions at advertising.scmp.com or contact us at advertising@scmp.com to see what we have to offer.
---
Events and Conferences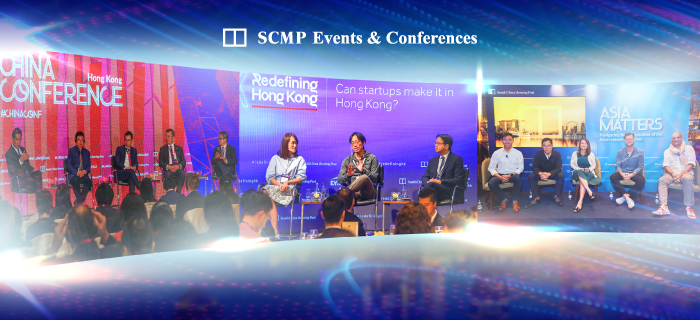 Backed by all the resources of the region's most reputable English-language newspaper, the South China Morning Post stages some of the most influential conferences, seminar series, industry award programmes and brand-building occasions in the Greater China region.
The South China Morning Post is primarily involved in three types of event:
SCMP Events – From high-level and regional, to targeted and boutique, these events include our many hugely successful industry awards. Conceived and organised by the SCMP, the events provide a broad range of speaking, sponsorship and marketing opportunities. Our flagship events include China Conference, which has been successfully held in Hong Kong, Kuala Lumpur, New York and Manila.
Partner Events – Designed in close collaboration with a particular client, these events are tailor-made to meet specific marketing and brand-building goals.
Sponsored Events – The SCMP also leverages our editorial and marketing expertise to support events across the arts, entertainment and business worlds as media sponsor.
Our events attract speakers and audiences from the very highest levels of business, government and academia. As part of a diverse media group that has been at the cutting-edge of digital news in Asia, the SCMP is able to target precisely and market effectively to exactly the right audience, ensuring the success of every event.