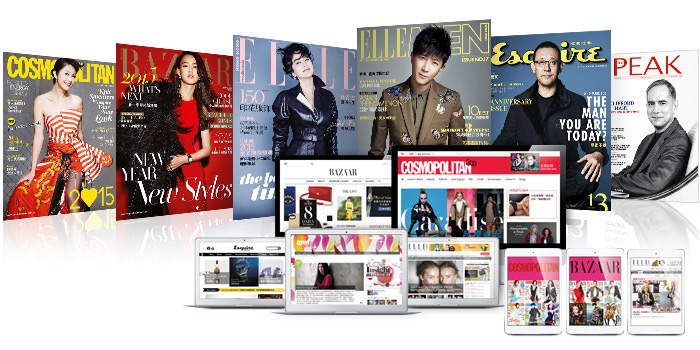 Through our partnership with Hearst Group, our SCMP Hearst division publishes the Chinese language editions of two international men's titles— Esquire and ELLE Men and three of Hong Kong's most popular Chinese language women's titles — Cosmopolitan, Harper's BAZAAR, and ELLE — as well as their respective websites and extension products. These world renowned women's titles are given a distinctly vibrant local flavour, engaging our readers in exciting and innovative multi-platformed updates on beauty and fashion, entertainment advice and celebrity gossip. While men's titles outfits readers with a passport to a lifestyle of international refinement and brings them inspirational fashion spreads, knowledgeable fashion insight as well as creativity, culture and chic's features.
Our English language magazine titles include The PEAK, the ultimate business and most luxurious lifestyle magazine; HK Magazine, Hong Kong's leading English language lifestyle magazine, The List and their respective apps and websites.
For over thirty years, Cosmopolitan has been informing and inspiring modern career women on fashion and beauty, relationships and romance, health and well-being, careers and culture: everything a fun and fearless female wants to know to lead a better life. Cosmopolitan is more than just a magazine; it is a social trend and a modern way of living. Cosmo, as it is endearingly known among its loyal readership, is famous for its upbeat style and candid discussions of contemporary lifestyles and human relationships. We speak to our readers in a frank and honest tone, much like a friend and confidante offering their point-of-view.
---
Cosmopolitan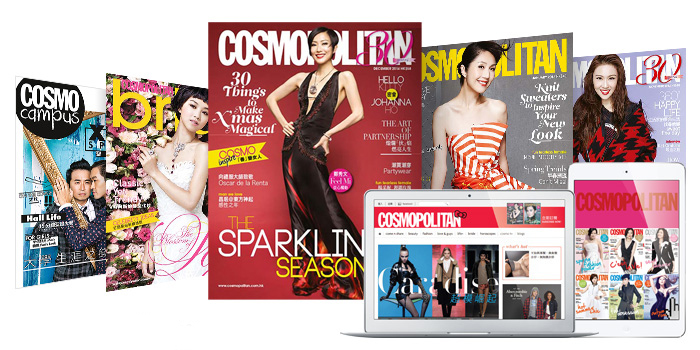 Cosmopolitan has always been ranked as top choice for women's magazines. In 2014, Cosmopolitan has been awarded the gold winner for Women Magazine of the Year by Marketing Magazine and it has been four consecutive years winning this award.
Cosmopolitan website: (www.cosmopolitan.com.hk) is the on-line hub for young women in Hong Kong, offering readers a one-stop site for information and advice on fashion, beauty, relationships, sex, personal growth, health, fitness, and careers.
Cosmopolitan Bride provides all the inspiration that a bride needs for the day she has always dreamt of. From gorgeous dresses to the hippest honeymoon destinations, Cosmopolitan Bride is packed with inspiring ideas, helpful tips and expert advice that make planning a stylish wedding as stress-free as possible.
Published annually since 2004, Cosmopolitan Bride has become a widely recognised wedding magazine in Hong Kong, offering an unique and contemporary perspective by combining leading-edge style and local sources.
Detailed sections cater to the bride's specific interests as well as the needs of her groom, friends and family. Topics explored include planning, fashion and beauty, banquet, décor, gifts, destinations and more to make it an indispensable guide for all bride-to-bes. CosmoBride publishes twice a year in June and November.
CosmoCAMPUS is the most fun-filled, idea-packed and inspiring read for University students. The title sets the trends for these young educated ladies by bringing in all-rounded, day-to-day advices and practical tips in the areas they concern the most – from fashion, beauty to love and career, and keeps them tightly connected in their busy campus life.
CosmoCampus is published six times a year; distributed for free at all Universities in Hong Kong, as well as available for free download online.
---
ELLE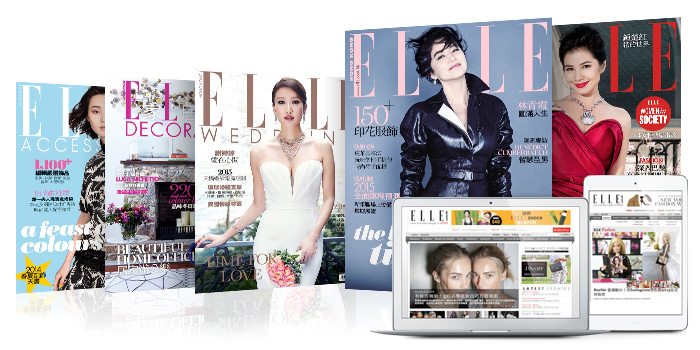 ELLE was first published in France in 1945 and has long been the world's leading fashion and style magazine with more than 6 million copies sold per month and 23 million readers around the world. Renowned for its international fashion appeal and reader-friendly mix-and-match tips, ELLE also inspires readers to cultivate personal style and celebrate the success that comes from the drive within.
ELLE regularly publishes editorial supplements such as the ELLE Luxe and Natural Beauty Bible, as well as spin-off titles including ELLE Accessories, ELLE Wedding and ELLE Decoration.
ELLE Accessories – A bi-annual magazine published every March and September, featuring the season's hottest shoes, bags, jewellery, watches and accessories.
ELLE Wedding – A useful handbook for brides-to-be published every June and November, this title is all about weddings – from gowns and accessories to makeup and jewellery, from venues and romantic getaways to banquets and planning services.
ELLE Decoration – This annual publication redefines home design by breaking away from traditional interior design/architecture magazines. Applying the ELLE spirit of fashion, mix and match, and by paying tribute to individual style, ELLE Decoration is one of the best loved magazines in HK.
ELLE HK website (www.elle.com.hk) is the number one female lifestyle website according to comScore. It had won numerous awards in the past including WAN-IFRA's 2012 Best in Online Media, Gold Award (magazine websites). In 2014, elle.com.hk has won the following Spark Awards for Media Excellence:
Best Use of Branded Content – Gold
Best Programme Promotion – Silver
Best Media Campaign (Digital) – Bronze
---
ELLE MEN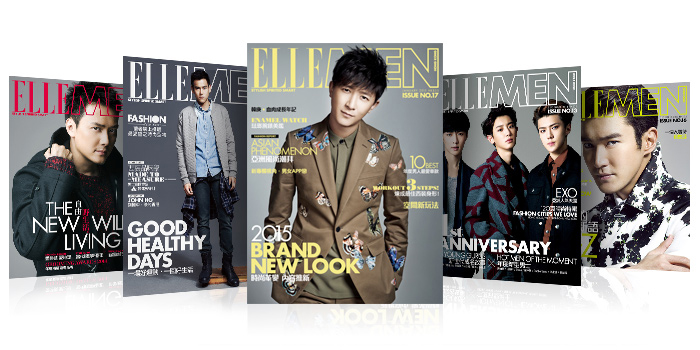 ELLE MEN is tailor-made for young, trend conscious males in Hong Kong. In the spirit of ELLE, ELLE MEN brings readers inspirational fashion spreads, practical mix and match tips, knowledgeable fashion insight, as well as features on creativity, culture and chic lifestyle – in particular, ELLE MEN pays tribute to the Creative Class, a group of innovative individuals identified as the leading force of growth in our modern day economy. ELLE MEN can be wrapped up in "3Ss" – STYLISH, SPIRITED and SMART.
STYLISH – ELLE MEN decodes the world of style based on needs of individual readers – each being unique and with his own needs.
SPIRITED – ELLE MEN inspires readers through real-life interviews and special features in every issue, addressing to men's interest in a playful yet insightful manner.
SMART – ELLE MEN does not dictate style. Rather, we help readers to create their own. We reach out to individuals who are smart enough to distinguish what suits their needs. ELLE MEN is the smart choice for individuals who choose wisely.
---
Esquire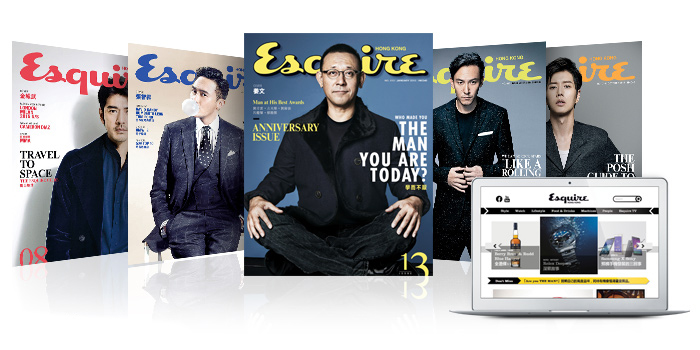 Esquire HK provides a man with the tools to lead a life well-lived. It reaches an intelligent, sophisticated audience of men worldwide, outfitting its readers with a passport to a lifestyle of international refinement. Esquire is the intelligent magazine for sophisticated men. Stylish, clever and modern, Esquire defines, reflects and celebrates what it means to be an influential man in contemporary culture.
The magazine's knowledge of style, culture, women, technology, food, and sports keeps the readers current in their prestigious world.
The Esquire Man knows the right books to read, clothes to wear, wines to order, and people to meet. Yet, he's consistently looking for inspirations from the Esquire. Esquire is simply "MAN AT HIS BEST"!
---
Harper's Bazaar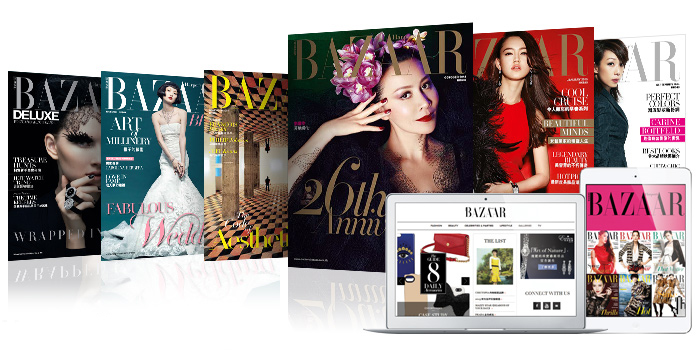 Sophisticated, elegant and provocative, Harper's BAZAAR is a world-renowned brand synonymously linked to haute fashion and exquisite taste. The Hong Kong edition is no exception; showcasing the finest and most distinctive world of fashion, beauty and lifestyle to readers. With an emphasis on the luxury market, BAZAAR's authority transcends What's New to What's Next with stylish commentary, wit and insight.
The digital platform (www.harpersbazaar.com.hk) is the ultimate online connection the latest, trendiest and most luxurious world of fashion, beauty, lifestyle and culture. Just relaunched in end September 2013, it offers audience a stylish, sleek and sophisticated navigation experience.
BAZAAR ART is Hong Kong's premier international Art magazine for passionate Art lovers. Inspired by the essence of Harper's BAZAAR – the world-renowned arbiter of good taste and style for its refined audience, BAZAAR ART offers readers unique, sophisticated, lively and provocative insights and interpretive discussions on both international and Asian contemporary art scene. BAZAAR ART published twice a year in May and December.
Inspired by the fashion forward essence of Harper's BAZAAR, BAZAAR BRIDE is the sophisticated, elegant and provocative wedding, styling and planning resource for the affluent, style-savvy elite brides in Hong Kong, and connects them with the World's finest for their weddings and their newlywed life.BAZAAR BRIDE is the most sought-after bible for the brides-to-be who has an innate sense of Good Taste, and the most effective advertising platform for reaching the affluent wedding consumers in Hong Kong. BAZAAR BRIDE is published annually in June.
---
Custom Publishing and Solutions
The award-winning team is your one-stop solution to professional print publications, customised editorial content for multi platforms/channels, digital design & development. Our projects include custom publications for luxury car and retail brands, innovative newsletters for business/educational institutes, commemorative anniversary books and biographies, as well as digital strategy and event management.